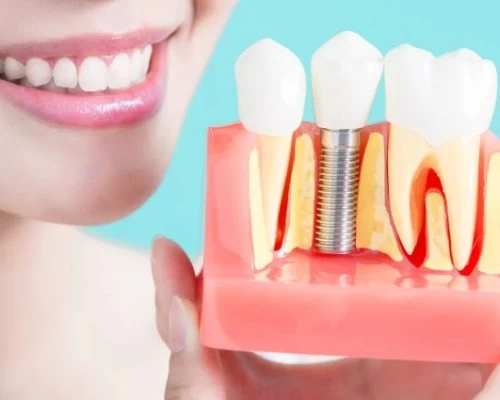 Wausau Smiles Dental Center stands out for its commitment to providing state-of-the-art dental care, including advanced guided implant placement services. Our proficient dental team utilizes cutting-edge technology and precise digital imaging to guarantee the most accurate and comfortable implant procedures. Experience the precision of our guided implant placement, from planning to execution, resulting in a seamless and minimally invasive process. Your smile's health and appearance are in capable hands at Wausau Smiles Dental Center, where expertise and innovation come together to restore your confidence and oral well-being.
Surgical Implant Placement
The placement of dental implants through surgical means is a specialized procedure aimed at replacing missing teeth by inserting dental implants into the jawbone. This approach is widely recognized for its capacity to restore both the function and appearance of a patient's smile. Dental implant placement is renowned for its long-term success and numerous benefits, such as enhanced chewing, speech, and aesthetic appeal. However, to ensure the implant's durability and success, patients must faithfully follow post-operative care instructions, uphold good oral hygiene, and attend regular follow-up appointments with their dentist or oral surgeon.

What is the Process of Dental Implant Placement
Dental implant placement is a sophisticated dental procedure that has revolutionized the field of restorative dentistry. It offers a reliable and long-term solution for individuals seeking to replace missing teeth, regain dental function, and restore their smiles. Below, we outline the key steps involved in the dental implant placement process:
Initial Consultation: The journey to dental implant placement begins with an initial consultation with a qualified dentist or oral surgeon. During this appointment, the dentist will assess the patient's oral health, take X-rays or 3D scans of the jaw, and discuss the patient's dental history and expectations. This evaluation helps determine whether the patient is a suitable candidate for dental implants.
Treatment Planning: Based on the assessment, the dental professional will create a personalized treatment plan. This plan outlines the number of implants required, their ideal locations, and the type of restoration (crown, bridge, or denture) that will be attached to the implants.
Advantages and Benefits of Dental Implants
Dental implant placement is highly favored by individuals seeking tooth replacement due to the numerous benefits it provides. Firstly, dental implants offer exceptional stability and durability. Unlike traditional dentures or bridges, implants are securely anchored in the jawbone through osseointegration, ensuring they remain stable and immobile during eating or speaking. This enhanced stability restores full chewing function, allowing patients to relish their favorite foods with assurance. Additionally, dental implants are well-known for their long-lasting nature, often enduring a lifetime with proper care, sparing patients from the periodic replacements required by other tooth replacement options.
Another significant advantage of dental implants is their ability to maintain and even enhance oral health. Unlike traditional bridges, implant placement does not require the alteration or removal of adjacent healthy teeth. This preserves the integrity of surrounding natural teeth and reduces the risk of future dental issues. Furthermore, implants stimulate the jawbone, preventing bone loss that typically occurs when a tooth is lost. This not only preserves facial aesthetics and prevents a sunken appearance but also contributes to overall oral health by maintaining a healthy jawbone structure. With their natural appearance, stability, and oral health benefits, dental implants offer a comprehensive solution that improves both function and aesthetics, ultimately enhancing a patient's quality of life.
Schedule An Appointment
Book YOUR SESSION WITH YOUR DENTIST