All-On-4® Dental Implants
At Wausau Smiles Dental, we take pride in offering state-of-the-art dental solutions, and our focus on innovation is exemplified through our All-on-4 dental implant services. We understand the impact missing teeth can have on both confidence and daily life, and our All-on-4 method provides a transformative solution. With just four strategically placed implants, we can replace an entire dental arch, offering our patients a stable, durable, and natural-looking restoration. Our approach at Wausau Smiles Dental involves precision implant placement and the use of high-quality materials, ensuring not only long-lasting results but also a comfortable and aesthetically pleasing outcome. Beyond restoring the ability to eat, speak, and smile with confidence, our All-on-4 dental implants contribute to optimal oral health by preventing bone loss and maintaining facial structure. If you are considering tooth replacement, Wausau Smiles Dental is here to provide personalized and advanced care with our All-on-4 dental implant services.
What are All-on-4 Dental Implants?
All-on-4 dental implants present a groundbreaking option for those who have lost multiple teeth or are confronted with the possibility of complete tooth loss. This innovative procedure entails the insertion of four dental implants to support a full set of prosthetic teeth. In contrast to traditional dentures, All-on-4 implants offer a stable and enduring solution that mimics the appearance, sensation, and functionality of natural teeth. The All-On-4® method is a revolutionary implant procedure that fully replaces all teeth in either the upper, lower, or both dental arches. This treatment provides a natural-looking restoration that is also robust enough to endure a lifetime.
Unlike conventional full-arch replacement procedures, which typically necessitate six to eight implants, the All-On-4 approach only requires four implants. Moreover, traditional methods often involve the gradual placement of a limited number of implants, extending the treatment duration to up to 18 months. This means individuals have to navigate their daily lives with an incomplete smile. In our practice, we advocate for promptly addressing patients' needs to ensure they experience the benefits of a healthy and complete smile as soon as possible.
The Benefits of All-on-4 Dental Implants:
Improved Stability: All-on-4 implants offer a stable and secure foundation for your new set of teeth. Say goodbye to the inconvenience of loose or ill-fitting dentures.

Enhanced Aesthetics: Our skilled dental professionals customize your prosthetic teeth to match the natural appearance of your original teeth, ensuring a beautiful and natural-looking smile.

Restored Functionality: Enjoy the ability to eat, speak, and laugh with confidence. All-on-4 implants restore the full functionality of your teeth, allowing you to savor your favorite foods without worry.

Preservation of Jawbone: The implant placement stimulates the jawbone, preventing deterioration and promoting long-term oral health. This helps maintain your facial structure and prevents the sunken look often associated with tooth loss.

Time-Efficient Procedure: All-on-4 dental implants can often be completed in a single day, providing you with an efficient and immediate solution to tooth loss.
Our All-on-4 Dental Implant Process:
Our team is ready to take you through the process of All-on-4 Dental Implant process to ensure your experience is smooth and enjoyable.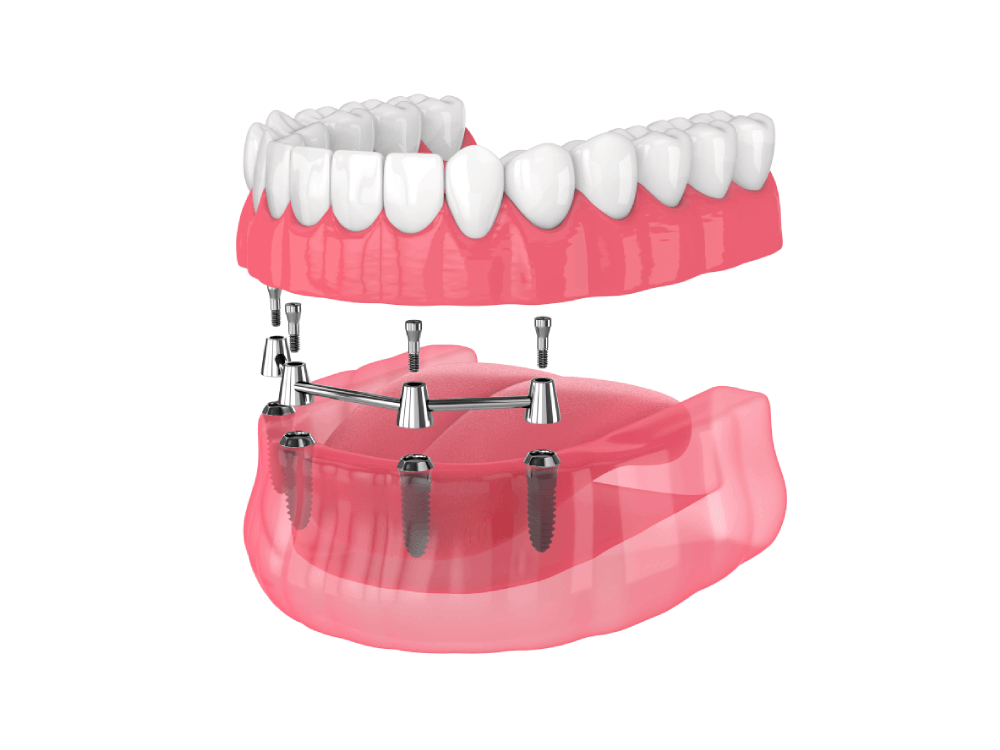 Why Choose Wausau Smiles Dental for All-on-4 Implants?
Expertise: Our team of skilled and experienced dental professionals is dedicated to providing the highest quality care and ensuring your comfort throughout the process.

Cutting-Edge Technology: We utilize the latest dental technology and techniques to ensure precision and efficiency in every step of the All-on-4 implant procedure.

Patient-Centric Approach: Your comfort and satisfaction are our top priorities. We take the time to understand your unique needs and concerns, tailoring our approach to deliver the best possible results.
Regain your confidence and transform your smile with All-on-4 dental implants at [Your Dental Practice Name]. Schedule a consultation today, and let us guide you on the path to a healthier, more radiant smile.
Schedule An Appointment
Book YOUR SESSION WITH YOUR DENTIST